How to find an LLMD (Lyme Literate Medical Doctor)
By Bryan Rosner, author of The Top 10 Lyme Disease Treatments

Due to political controversy and legal challenges facing Lyme doctors, most of them prefer to keep a low profile. For this reason, they can be difficult to find. Additionally, good etiquette in the Lyme disease community dictates that when discussing doctors in public (including public internet discussion groups), their names should be kept private. If your doctor tells you that he or she is okay with his or her name being public, then you may be able to ignore this etiquette. However, when in doubt, assume that the above is true. Many people expect to find a list of Lyme doctors on the internet, where they can just grab a name and a phone number. However, as a result of the political and legal climate, this is not possible. Instead, you must contact one of the below Lyme disease organizations and request a doctor referral. With these caveats in mind, here are the instructions for how to get a Lyme-literate physician referral in your geographic area:

Now, a very important note about finding an LLMD doctor:

Whatever you do, do not simply walk into any random general practitioner's office or general infectious disease doctor's office thinking that you are going to get good Lyme disease care! Awareness of Lyme disease already very low among U.S. physicians. By seeing a doctor who is not versed in the condition, you are almost guaranteeing that you will be sent out of the office empty-handed, if not ridiculed. Presently, Lyme patients have a difficult time gaining recognition and validation in the United States. In fact, most U.S. physicians do not even acknowledge the existence of chronic Lyme disease. The first step toward placing the odds in your favor is to start with the most knowledgeable physician you can find instead of wasting time trying to educate other, potentially closed-minded doctors.

The one exception to the rule of finding a Lyme-literate physician at the outset is if you should happen to have a strong relationship with a general practitioner who is not aware of the condition but who has instead proven to you over past relationship that he or she is open-minded, accommodating, humble, and inquisitive. Such a physician (often a family friend, or, perhaps, a relative) may be able to help you by mere virtue of the fact that he or she may be willing to do what it takes to become educated on Lyme disease. After all, when it comes to Lyme-literate physicians, the key qualities to seek are open-mindedness and humility. To educate your local physician on Lyme disease treatment strategies, you might consider buying him or her this book, which is based on interviews with 13 LLMDs and describes how they treat Lyme disease in their practices.

However, if you approach this trusted doctor and they are hostile toward your hypothesis that you or your child may be suffering from Lyme disease, then run the other way! There is no point in wasting your time trying to change a doctor's mind when you can instead spend your time and energy cultivating a professional relationship with one of the hundreds of physicians out there who will be accommodating and helpful to you. The simple fact is that most physicians are not only ignorant of Lyme disease, but they are actually taught in medical school that it is a simple, rare infection that they will never see in their practices. This type of dogma is ingrained in most physicians. Instead of fighting it, just accept that the Lyme disease of medical practice field is years ahead of its time, and find someone who is already "on the right bus," so to speak.

The importance of finding a helpful, informed physician cannot be over-stated. Countless parents and patients have lost years of life, spent thousands of dollars, and endured immeasurable stress in hopeless arguments with closed-minded physicians, all the while unaware of the helpful and resourceful physician who may be practicing medicine just a few blocks down the road.

Also keep in mind that simply finding a Lyme-literate physician is not enough. In addition to such literacy, a physician must also prove to you that he or she has an open mind and is willing to pursue ongoing education. The reason for this requirement is simply that Lyme disease is currently not well understood, and any physician who successfully cares for patients of the disorder must be committed to remaining on the cutting edge of modern medical science and interventions. This is especially difficult for physicians given their demanding work schedules and lack of time for keeping up with new research and ideas. You need to make sure your chosen doctor can dedicate the time it takes to not only become educated, but also stay educated. This is one of the reasons why we published our newest book which focuses on cutting edge treatments physicians are using in their practices in modern times.

Additionally, make sure your physician knows that Lyme disease does not just involve Borrelia infection, but also dozens of other co-infections, including Babesia, Bartonella, Ehrlichia, mycoplasma, and many others. Or, if he or she does not already know this, make sure that he or she is open-minded enough to consider the possibility.

Want to keep up with our Lyme updates? Follow us on Facebook now! Also, don't miss our latest books, many of which were published in 2012 and 2013.

Finally (are you getting tired of all the requirements yet?), do not forget that you, as the patient (or patient's advocate) are ultimately responsible for your healthcare. Do not buy into the lie that you are a "consumer of prepackaged health care." Contrary to what the medical establishment would have you believe, there is no success to be found with blindly relying on the medical establishment. The responsibility for your success or failure in healing lies with no one other than you, and you alone! Do not cave in to the enticing desire for easy answers from a physician or specialist who seems to know it all. While it may feel comfortable to blindly rely on decrees passed down by medical professionals, the truth is that such comfort is short-lived and the only real road to success requires your active questioning, participation, and intellectual engagement in the healing process. For additional information, click here to find out how 13 of the nation's top Lyme doctors treat their patients.
---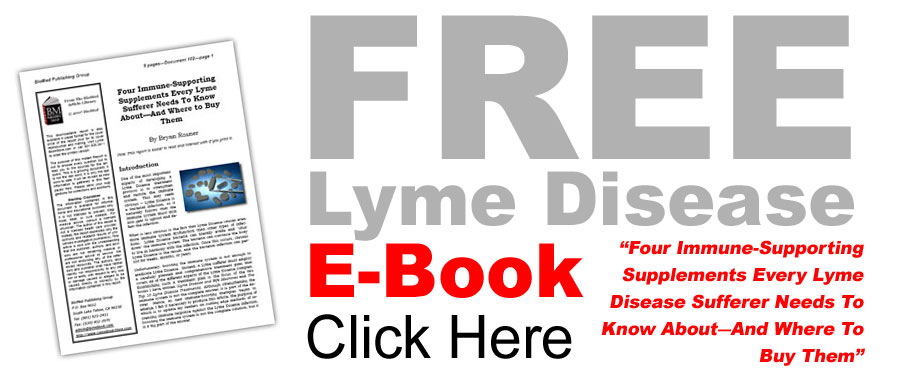 ---
When treating Lyme disease, it is important to remember that not all doctors are Lyme-literate. In fact, most physicians in the USA do not believe in chronic Lyme disease. So, you can waste a lot of time and energy going to the wrong doctor. Therefore, you should be very selective and invest the time and energy up front to select a physician who understands Lyme disease and can help you establish an effective, aggressive treatment campaign for chronic Lyme. For more information, see The Top 10 Lyme Disease Treatments paperback book. (Advertisement directly below)
Learn More
(Advertisement)

Need More Lyme Disease Information?

Get Your Copy Of
"The Top 10 Lyme Disease Treatments"

Paperback Book, 367 Pages

$35

Book Description: Lyme Disease is one of the most stubborn, treatment-resistant infections in the world. It is also spreading rapidly on all continents with more than 200,000 new cases per year in the United States alone. Recent research indicates that, in addition to tick bites, Lyme Disease may also be transmitted by sexual contact and bites from other insects. Quite often, standard antibiotic treatment fails to cure Lyme Disease. When this occurs, Lyme Disease becomes chronic, leading to indefinite suffering. New Lyme Disease treatments are desperately needed. This book relies on worldwide research and presents 10 breakthrough treatments. The first 5 treatments covered are the core treatment protocols: The Antibiotic Rotation Protocol, the Marshall Protocol, the Salt / Vitamin C protocol, and Detoxification. The second 5 treatments presented are the supportive supplements: Systemic Enzymes, Mangosteen, Lithium Orotate, Coenzyme Q10, and Magnesium. Learn More.
(Advertisement)

Just published with lot's of up-to-date information!
The following are specialty areas and geographic locations for which LLMDs are available:
City, ST, Specialty, Mobile, AL, Lyme Specialist, Hematologist, Scottsdale, AZ, CAM, Vancouver, BC, , Aptos, CA, Holistic, Chico, CA, Neurologist, Chico, CA, , Chico, CA, General Practice, Corte Madera, CA, , Los Altos, CA, , Los Altos, CA, GYN Reproductive Endocrinologist, Los Gatos, CA, GYN Endometriosis, Nevada City, CA, Family Practice, Oakhurst, CA, Family Practice, Ojai, CA, , Ojai, CA, Palo Alto, CA, San Cruz, CA, San Francisco, CA, San Francisco, CA, San Francisco, CA, San Francisco, CA, San Francisco, CA, San Jose, CA, Santa Rosa, CA, Naturopath, Santa Rosa, CA, Family Practice/CAM, Santa Rosa, CA, Family Practice/CAM, Santa Rosa, CA, Family Practice/CAM, Santee, CA, Family Practice, Torrance, CA, Integrative, Trazana, CA, , Hope, BC, Family Practice, Centennial, CO, Fibro and Fatigue Clinic, Lafayette, CO, Family Practice, Steamboat Springs, CO, Internist, Greenwich, CT, Psychiatry, , , Mystic, CT, Buhner Protocol, New Haven, CT, Pediatric, Adolescent, Norwalk, CT, Fibro and Fatigue Clinic, Orange, CT, Neurologist, Ridgefield, CT, Internist, Southport, CT, Neurologist, Stamford, CT, Psychiatry, Westport, CT, , Wilton, CT, Internist, Wilton, CT, Psychiatry, Delray Beach, FL, Internist, Lauderdale Lakes, FL, Neurology, Miami Beach, FL, Internist, Geriatrics, Naples, FL, Neurology, Naples, FL, Psychiatry, Marietta, GA, Fibro and Fatigue Clinic, Marietta, GA, Rheumatologist, Louisville, KY, Neurology, Pineville, LA, , Boston, MA, Infectious Disease, Newton Centre, MA, Clinical Psychologist, Waltham, MA, Fibro and Fatigue Clinic, Bel Air, MD, Internal, Occupational, Holistic, Easton, MD, Gynecology, Gaithersburg, MD, Family Practice, Gaithersburg, MD, Medicine, Laurel, MD, Family Practice, Lutherville, MD, Internist/Infectious Disease, Lutherville, MD, Cardiologist, Lutherville Timonium, MD, Internist, Pocomoke City, MD, Family Practice, , Rockville, MD, Internist, Integrative, Towson, MD, Environmental, CAM, Towson, MD, Internal Medicine, Andover, ME, , Freeport, ME, Internal Medicine, Kennebunkport, ME, , Lincoln, ME, Internal Medicine, Troy, MI, Fibro and Fatigue Clinic, Washington, MI, , Bloomington, MN, Family Practice, Duluth, MN, Infectious Disease, Forest Lake, MN, , Minneapolis, MN, , Minneapolis, MN, Consults Only, Winona, MN, Family Practice, CAM, Columbia, MO, Infectious Disease, Columbia, MO, , Kansas City, MO, Infectious Disease Teacher, Springfield, MO, Family Practice, Ocean Springs, MS, Internal Medicine, Huntersville, NC, Infectious Disease, Epping, NH, Family Practice, Portsmouth, NH, Naturopath, Wolfeboro, NH, , Absecon, NJ, Infectious Disease, Basking Ridge, NJ, Rheumatology, Brachberg, NJ, Ophthalmology, Cherry Hill, NJ, Pain Management, Chester, NJ, Psychiatrist, Psychopharmacologist, Chester , NJ, Pediactric, Egg Harbor Twp, NJ, Pain Management, Engelwood, NJ, Clinical Psychologist, Essex Fells, NJ, Pediactric, Flemington, NJ, Vector-Borne Disease Consultant, Hammonton, NJ, , Howell, NJ, Internal Medicine, Howell, NJ, Pediactric, Jackson, NJ, Internal Medicine, Margate, NJ, Pain Management, Morristown, NJ, Psychiatrist, Mountainside, NJ, Psychologist, Parsippany, NJ, Clinical Psychologist, Red Bank, NJ, Neuro-Psychiatry, Red Bank, NJ, Neurologist , Riverdale, NJ, Rheumatology, Sewell, NJ, Pediatrician, Somers Point, NJ, Infectious Disease, Somerville, NJ, Ophthalmology, Treehold, NJ, Psychotherapist, Washington Twp, NJ, Pain Management, Watchung, NJ, , West Caldwell, NJ, Rheumatology, Santa Fe, NM, Internal Medicine, CAM, Las Vegas, NV, Fibro and Fatigue Clinic, Armonk, NY, Internist, Critical Care, Brewster, NY, Family Practice, Brewster, NY, Pscyotherapy, Buffalo, NY, Environmental, Chazy, NY, Family Practice, Hyde Park, NY, Internist, CAM, Mamaroneck, NY, Clinical Psychologist, Mount Kisco, NY, Internist, Epidemiologist, New York, NY, Psychiatrist, New York, NY, , New York, NY, Neurologist, New York, NY, Neurologist, New York, NY, Chinese Medicine, Pleasantville, NY, Ophthalmology, Port Jefferson Station, NY, , Rhinebeck, NY, Family Practice, CAM, Rhinebeck, NY, Family Practice, CAM, Middleburg Heights, OH, Fibro and Fatigue Clinic, Beaverton, OR, Fibro and Fatigue Clinic, The Dalles, OR, Naturopath, Allentown, PA, , Bala Cynwyd, PA, Internist, ID, CAM, Bloomsburg, PA, Emergency Medicine, Coatesville, PA, Clinical/Child Psychology, Colamar, PA, Family Practice, Downingtown, PA, General Family Practice, East Stroudsburg, PA, Family Practice, Exton, PA, , Glen Mills, PA, CFS, Hermitage, PA, Internist, Family Practice, Hermitage, PA, Family Practice, Holland, PA, Psychiatry, Kennett Square, PA, Family Medicine, King of Prussia, PA, Fibro and Fatigue Clinic, Lancaster, PA, Neuro-Opthamology, Paoli, PA, , Philadelphia, PA, Research physician, Philadelphia, PA, Holistic doctor, Pittsburgh, PA, Fibro and Fatigue Clinic, Shillington, PA, Hormones, Williamsport, PA, Radiation Oncologist, Williamsport, PA, Internist, Rheumatology, York, PA, Family Practice, Hodges, SC, Family Practice, Dallas, TX, Fibro and Fatigue Clinic, Ft. Worth, TX, Fibro and Fatigue Clinic, Richardson, TX, Cardiologist, CAM, Victoria, TX, Pediatric, Murray, UT, Fibro and Fatigue Clinic, Fairfax, VA, Rheumatology, Portsmouth, VA, Family Practice, Sterling, VA, Family Practice, Vienna, VA, , Brandon, VT, Integrative Family Physician, Brattleboro, VT, Buhner Protocol, Waitsfield, VT, Buhner Protocol, ,